by Anura Guruge
On Wednesday, October 5, 2011, Benedict XVI (#266) following his catechesis during that morning's general audience (Wednesday's being the customary day for these audiences), the pope appealed to the world to help those suffering, terribly, in the Horn of Africa famine. But, I noticed that it was all words, no money; i.e., the pope was mum about the Vatican, or himself from his private Pontifical fund, making any donations for this pressing cause. In case you didn't know the annual Peter's Pence collection goes directly to the Vatican to be used for causes like this (or to build the pope a new swimming pool or buy fancy, solid gold accessories). The pope also gets private, personal 'donations' from many, in particular 'rich' cardinals and bishops. Peter's Pence collections, taken around the 3rd week of June, each year, amounted to US $79.8 Million in 2007, $75.8 Million in 2008, $82.5 Million in 2009 and $67.7 Million in 2010. [Yes, it went down. 'It is the economy, stupid.']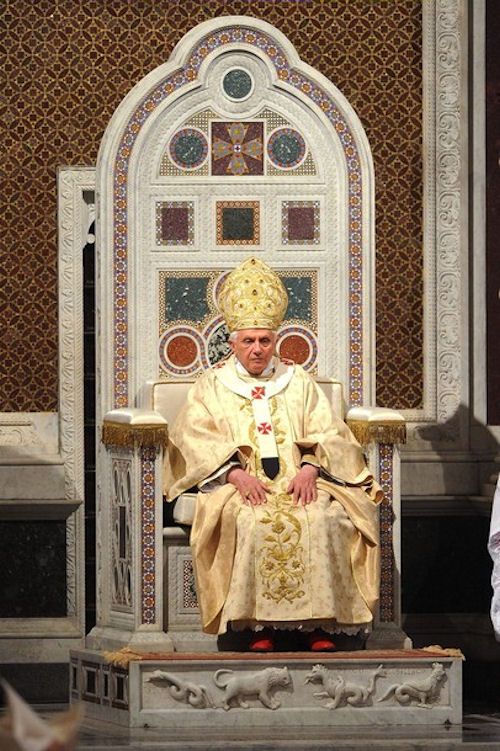 Then on Friday, October 7, 2011 the Vatican let it be known that the Holy Father added his bit to the efforts being made for this relief efforts by other parts of the Church, in particular the poor local churches in East Africa. I was initially gratified. The pope was THE MAN. Then, I read the figure. I blinked, rubbed my eyes to clean my contacts and looked again. I reached for my trusty magnifying glass and peered at the number through it. Yes, it was US $400,000!
I sat on it all weekend, getting progressively agitated. Then I read that Brad Pitt and Angelina Jolie donated $340K for Somali famine relief. Yes, I understand that the pope is nowhere close to as good looking as those two, BUT he sure lords over a very bountiful kingdom. If Pitt and Jolie can donate #340,ooo, can't the pope do better than $60,000 more.
Yesterday when I was doing the 'pope and the bees' post I was forced to look at multiple pictures of this dandy pope dressed to the nines dripping gold. The Ratzinger Forum appears to take great pride and pleasure in documenting the pope in all his fancy dresses. Check them out.
In case you didn't know this pope is now the owner of a rather ornate papal tiara. It was presented to the pope at the general audience of May 25, 2011 by the group of German Catholics. This tiara was made in Bulgaria, by a company that specializes in Eastern Orthodox liturgical vestments, and is made from mixture of zinc, silver and brass and adorned with semi-precious stones. The pope has yet to wear it in public, though it is rumored that he likes to strut about the Papal Apartment wearing it and have it placed on his head before he now plays the piano.
The pope could, at a minimum, follow the lead of Paul VI (#263), and sell this tiara and donate the money to the Africa cause. I am sure that Lord Burke will be happy to buy it from the pope for a few millions.
Yes, these are expensive times for the Vatican. They are spending BILLIONS a year defending all of the clergy sex abuse crime cases around the world. But, that is just paying for past dalliances. That shouldn't cut into charitable contributions.
Plus, I, as ever, got thinking. The pope, quite literally, is sitting atop BILLIONS of dollars in dead assets. Yep. Think about it.
A body of a pope, as with all other men, will have, on average, 206 bones. Each one of those is a priceless relic! Without trying the pope could get $10,000 for one of Bl. John Paul II's (#265) relics. Probably much more. But, even at $10,000 that is a minimum $2 million per pope. He could even get more creative.
He could implement an adopt a relic program. There will be enough US Catholics who would be honored to participate in that, to have bragging rights to say: 'I own Bl. John Paul II's stirrup bone. Here look at my certificate. It is also a relic. It was held against the bone. I paid $300,000 for the privilege. The best money I ever spent. I am selling copies of the certificate on eBay for $50.'
To be honest, of late, particularly after the upside down pallium fiasco, I worry about this pope. I don't think he is thinking as clearly as he should. But, as ever, I could be wrong.
So, my bottom line hasn't changed. This pope needs to do more for charity. Period. Is that unreasonable to ask. And now, I have, given my gift for marketing, provided him with an idea way to raise more money. Just remember where you read this first. Thanks.